The Epic Games Bandcamp Deal
Analysis of the Bandcamp acquisition by Epic Games from the perspective of an independent label owner.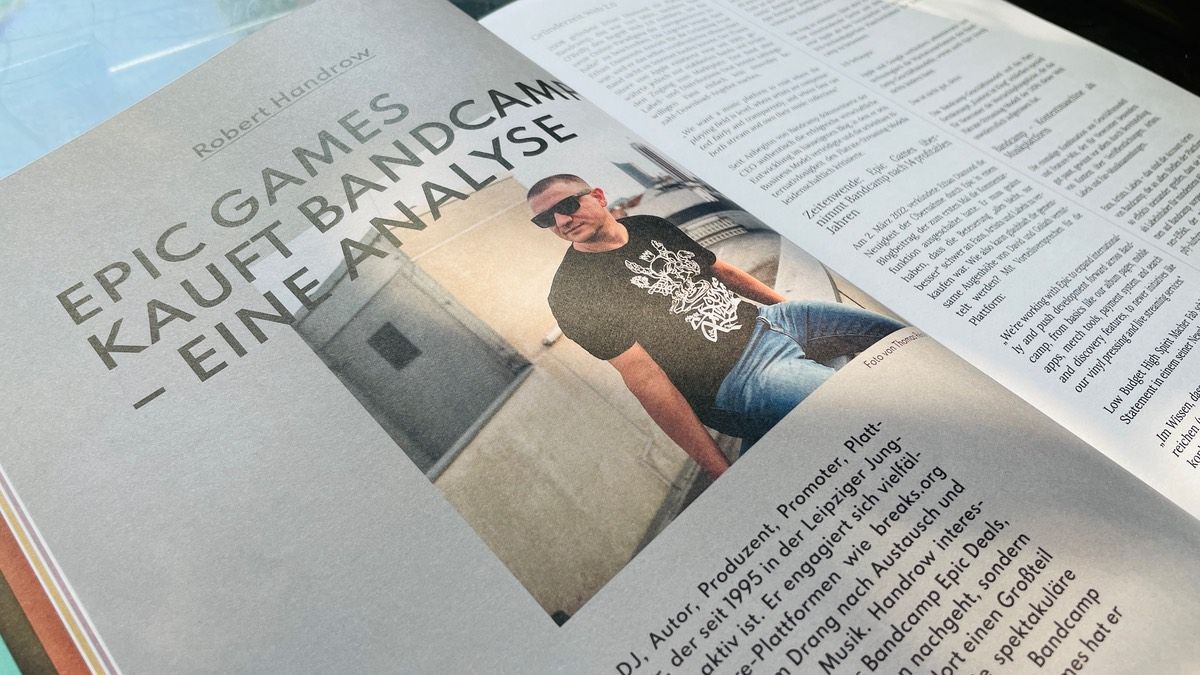 This article was originally published in German print magazine Low Budget High Spirit #2 in September 2022. The newsletter of the same name "Musikbusiness neu denken" by Leipzig-based Fabian Schütze offers news about helpful tools for the daily work in the music business, deep dives, critical perspectives and background knowledge for musicians, bands and agencies.
Robert Handrow is a DJ, author, producer, promoter, platform and label founder who has been active in the Leipzig Jungle / Drum and Bass scene since 1995. He is involved in many ways, founded important genre platforms like breaks.org and itsyours.info, always with the urge for exchange and a deeper understanding of the music. Handrow is interested in the shoals of the Bandcamp Epic deal not only because he follows music law issues in his professional life, but also because his own label, Defrostatica, generates much of its revenue and new fans there. He looked at the spectacular takeover of independent music platform Bandcamp by international games company Epic Games from just these two perspectives.
Founder Time Web 2.0
In 2008, Ethan Diamond founded the Bandcamp platform, which was four years after Tim O'Reilly introduced the term Web 2.0 to describe the new online paradigm of "user-generated content." Legend has it that Ethan Diamond's impetus for founding was frustration at not being able to buy a band's self-released album on the Internet. Apple's iTunes Store had existed since 2003, but only granted access to the marketplace to established bands and artists. A band without a label and distribution deal simply couldn't make a meaningful paid download offer to fans willing to pay. Ethan Diamond:
"We want a music platform to exist where the playing field is level, where artists are compensated fairly and transparently, and where fans can both stream and own their music collections."
Since the beginning of Bandcamp, the CEO authentically documented the successful economic development in the in-house blog, in which he defended his business model and passionately criticized the apparent lack of alternatives of the flat rate streaming model.
Turn of the tide: Epic Games acquires Bandcamp after 14 profitable years
On March 2, 2022, Ethan Diamond announced the news of Epic's acquisition in a blog post that had the comments section turned off for the first time. He must have sensed that the affirmation "everything stays, only better" was a hard sell to fans, artists and labels. So how can the shared eye level of David and Goliath be credibly conveyed? With promises of advantages for the platform:
"We're working with Epic to expand internationally and push development forward across Bandcamp, from basics like our album pages, mobile apps, merch tools, payment system, and search and discovery features, to newer initiatives like our vinyl pressing and live streaming services."
Low Budget High Spirit maker Fab estimates the statement in his newsletter:
"Knowing that our own resources are never enough (and never have been) to set up a competitive platform including an app, one of the main motivations for the cooperation will have been to benefit from the IT power of the partner. This motivation is completely understandable for me and I very much hope that new features will come and the user experience - both desktop and in the app - will improve noticeably. In the end, the deal is simply a kind of guarantee of survival: Bandcamp has completely slept through the streaming and app age, and the parties involved know it."
In my eyes it leaves one crucial thing out of the picture and that is to name Apple as the cause of the economic-technological bottleneck for Bandcamp.
I assert:
Apple and Google are administratively and technologically impeding the growth opportunities of the Bandcamp business model, and Epic can't change that (yet).
This is not good, because:
The Bandcamp business model and the "context is king" platform concept closes the value creation gap, especially for newcomers, that the flat rate streaming model of the digital streaming platforms of this world has irrevocably torn open.
Bandcamp - context machine as a music platform
The unique combination of business model and feature mix, which is a particularly good fit for artist newcomers, wins especially by providing context about releases, artists, labels and fan music collections.
Fans, artists, labels - these are the account types of Bandcamp that intertwine so effectively at all points of the platform that they provide at least 40% of the revenue on Bandcamp for me as a label owner. A context machine effect that simply cannot be created with a singular Shopify presence.
Fans follow artists, labels, and other fans. After purchasing releases once, you can stream them for free on your desktop or with the Bandcamp app. After purchase, the downloads are offered in various formats without copy protection - from MP3 to original master formats such as AIFF or WAV to Lossless Audio FLAC. Fans have public pages where purchases are listed chronologically. They can discover new music via release hashtags - for example, via regional city assignment or genre designations. Artists can freely assign hashtags, which can also be used to create release collections.
Artists can sell music and merchandise with the free account, Bandcamp keeps 10% of physical sales and 15% of digital sales, which is reduced to 10% when annual sales reach $5,000. An artist's investment to sell music on Bandcamp is thus exactly zero euros. For artists, the platform provides a guide to the music business that is easy to understand.
Labels get with the label account the great good of a landing page that shows the complete label catalog - another huge context advance. The releases can also be home to the artists and from where they are linking back to the label page. This creates a comprehensible connection between the label and the artists in the first place.
None of this exists on Spotify and co. This simple presentation of a label catalog on major streaming platforms underscores their efforts to recontextualize music: user behavior is steered toward playlists and author credits are omitted. Without hacks or relationships, a label's musical context cannot be shown: On Spotify, labels have to tag themselves as artist (!) in songs so that the catalog can be shown in summary via an artist account. On Apple Music, there is no option by design - unless you have good relationships with Apple, as only a few labels do. Apple does not treat artists equally on Apple Music, as it does for developers in the App Store.
This kind of intransparency and inequality has never been an issue for me on Bandcamp after six years of label history. As an independent company, Bandcamp does not have to deal with conflicting interests like Spotify, where on the one hand major labels are stakeholders and thus receive special treatment and payouts, but on the other hand Spotify wants to expand with "podcasts" in order to minimize payout share.
If I, as a independent label newcomer, compare the digital sales revenue of DJ platforms like Beatport and Juno with the flat rate streaming services (Spotify, Apple Music, etc.) and Bandcamp, it becomes clear that Bandcamp beats all other providers in comparison, several times. Is Bandcamp a competitive platform as a contextual engine? Hell yes! Is release recoupment possible without Bandcamp? Absolutely not. Would I want to continue investing in label artists' music if I could only offer it on major DSPs? Absolutely not. And isn't this chain of thought slightly creepy when you consider that Bandcamp is virtually unrivaled as a platform for up-and-coming independent artists?
That said, there's always room for improvement, even on Bandcamp: for example, I wish there was an official pitch option to Bandcamp Daily, the top-notch editorial blog that can sustainably send new fans in the direction of the artist. A hashtag consolidation is overdue that lets double-entendres be history (drum & bass vs. drum and bass) and of course, like every other fan on Bandcamp, I long for better search.
However, my biggest wish is to sell digital releases directly to fans using the Bandcamp iOS app. After all, how am I supposed to market a release on mobile for Bandcamp if it can't result in a purchase? And here I come to Apple as an administrative and technological bottleneck.
Antitrust Law instead of Apple & Google Rules
Apple exercises a monopoly for in-app payment methods on the mobile iOS platform - payments can only be made via the payment service providers deposited with Apple. This is not a problem for providers of store apps with physical goods, but for the arbitrarily defined category of so-called "reader apps".
"Reader apps are apps that provide one or more of the following digital content types - magazines, newspapers, books, audio, music, or video - as the primary functionality of the app."
In contrast to paying for physical goods, Apple levies a 30% tax on the sale of digital goods. With the Bandcamp iOS app, one can easily purchase a record, CD or tape - even or especially if they are coupled with a digital release. However, if a release is only offered digitally, that release cannot be purchased with the Bandcamp iOS app. There is simply no 'buy button' for it. What Bandcamp is forbidden from doing in Apple's place: telling the inclined fan why that is and how the fan can buy the release instead. Feel free to try this out for yourself with the app.
Imagine if Bandcamp enabled digital sales in the iOS app - who should pay for the extra 30% they think Apple is entitled to? The fan by paying a higher amount than through the Bandcamp website? Should artists or labels pay for the amount?
What does Apple actually do for the 30% tax? Remember that Apple believes it is entitled to earn a share that is double that of Bandcamp - the actual service provider. But:
The app store platform effect doesn't work here, because it's not Apple that's responsible for the fan discovery of artists and labels, but Bandcamp as a platform.
What Apple has effectively created with its reader app regulation and in-app payment monopoly: Blocking a successful music business model in a mobile app.
Instead, fans, artists, and labels must conduct their Bandcamp business in a browser - if they just want to buy digital music. This circumstance is a nightmare in a mobile app world: the release campaign on Instagram for instance should deeplink to the Bandcamp app release page (not possible) where a fan is already registered, logged in and ready to purchase. Instead you need to log in to Bandcamp on iOS Safari, make the purchase and after that you're able to stream it in the iOS Bandcamp app. And you won't like to listen to the purchased music on Bandcamp with iOS Safari, Apple made sure it is not a pleasant user experience.
Until now, the in-app payment monopoly did not exist on Android devices. Fans could buy digital releases on the go in the Android Bandcamp app. With the mandatory introduction of Google Play Billing on June 1st 2022, Google is thus imitating Apple's set of rules to the detriment of indie artists and labels. Possible consequences: Elimination of revenue on one of the two relevant mobile platforms in the western world, later payouts, substantial share increase by Bandcamp per digital sale.
From now on, the Bandcamp purchase by Epic will be really interesting, because the upcoming legal showdown will simply be, well, epic: Epic Games filed an application for a court order on 28th of April 2022 to be able to keep the exemption rule for Bandcamp in the Play Store. Reasoning: Google was anti-competitively using its monopoly power in the Android app distribution market and illegally linking Google Play Billing to Google Play. And Epic's first fight for Bandcamp was temporarily successful!
On May 20th Ethan Diamond announces:
"Under a court-sponsored agreement, Bandcamp will continue to use our existing payment system for Android devices. Fans will be able to support artists on Android devices as they have in the past, and we will continue to pay artists the same percentage of sales (typically within 24-48 hours, as we do today). Bandcamp will place 10% of revenue from digital sales on Android devices in escrow until the ongoing lawsuit between Epic and Google is resolved - a fee we will bear. We will continue to fight for artist-first business models like ours to be possible on Android devices."
What must become unmistakably clear to every observer here: Epic Games fights legally against the arbitrary regulations on both Apple and Google mobile platforms - with intentions that do not contradict those of the independent artists and labels and takes enormous financial risks in the process. This interim success is also perceived with astonishment in the legal world, because neither the behavior of Google nor the court was predictable in the decision.
It is questionable whether Epic Games as the new owner of Bandcamp can win this battle against Apple and Google. Because Epic had already challenged the very restrictions on apps by Apple in an antitrust complaint in 2020, which offered other in-app purchase methods than those in the App Store. When Epic implemented an alternative payment method in its iOS Fortnite app, Apple blocked the app. Epic then sued Apple - and lost the first battle. The documents in their late-May appeal are also now known, highlighting Epic Games' ambitions to have Apple's platform behavior clearly categorized under U.S. antitrust law, namely where the line is to be drawn between "concerted actions, cartels" and "unilateral conduct, abuse of market power."
For Epic Games, Bandcamp becomes another antitrust argument after Fortnite, which helps them to continue their fights against Google and Apple. From the perspective of an indie label owner, I wish Epic Games much success and staying power.
In the meantime, fans, artists and labels on Bandcamp are anxiously following whether the Bandcamp founder's statement can come true:
"We share a vision of building the most open, artist-friendly ecosystem in the world, and together we'll be able to create even more opportunities for artists to be compensated fairly for their work."