DJ Storm interview (April 2000)
In honour of DJ Storm, who has been drum and bass music's most passionate ambassador for 30 years, here is my first interview with her.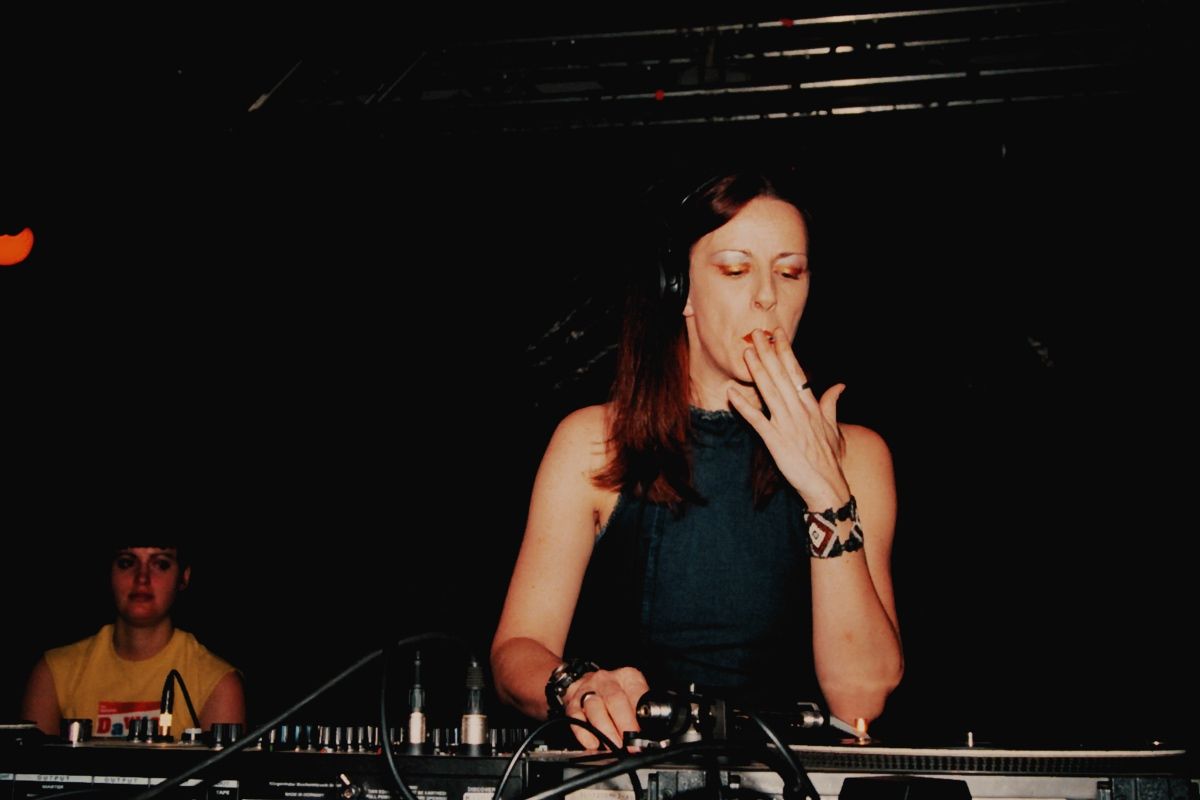 Storm is celebrating the 30th anniversary of her DJ career in 2022. To mark the occasion, I decided to translate into English an interview I did with her in Leipzig in April 2000, which was originally published in German. She talked about the pro and cons of dubplate culture, gave advice for DJ beginners, explained that Kemistry & Storm were not the only women that ran the Metalheadz label at a time and finally if you love drum and bass, you better make it yourself and don't get UK producers to make it for you.
First of all, a short chronology of how the interview with DJ Storm finally came about: Kemistry and Storm played at the Conne Island for the first time on 29.11.1997 with Bass Dee (from Berlin) and the Leipzig support Malcolm and me.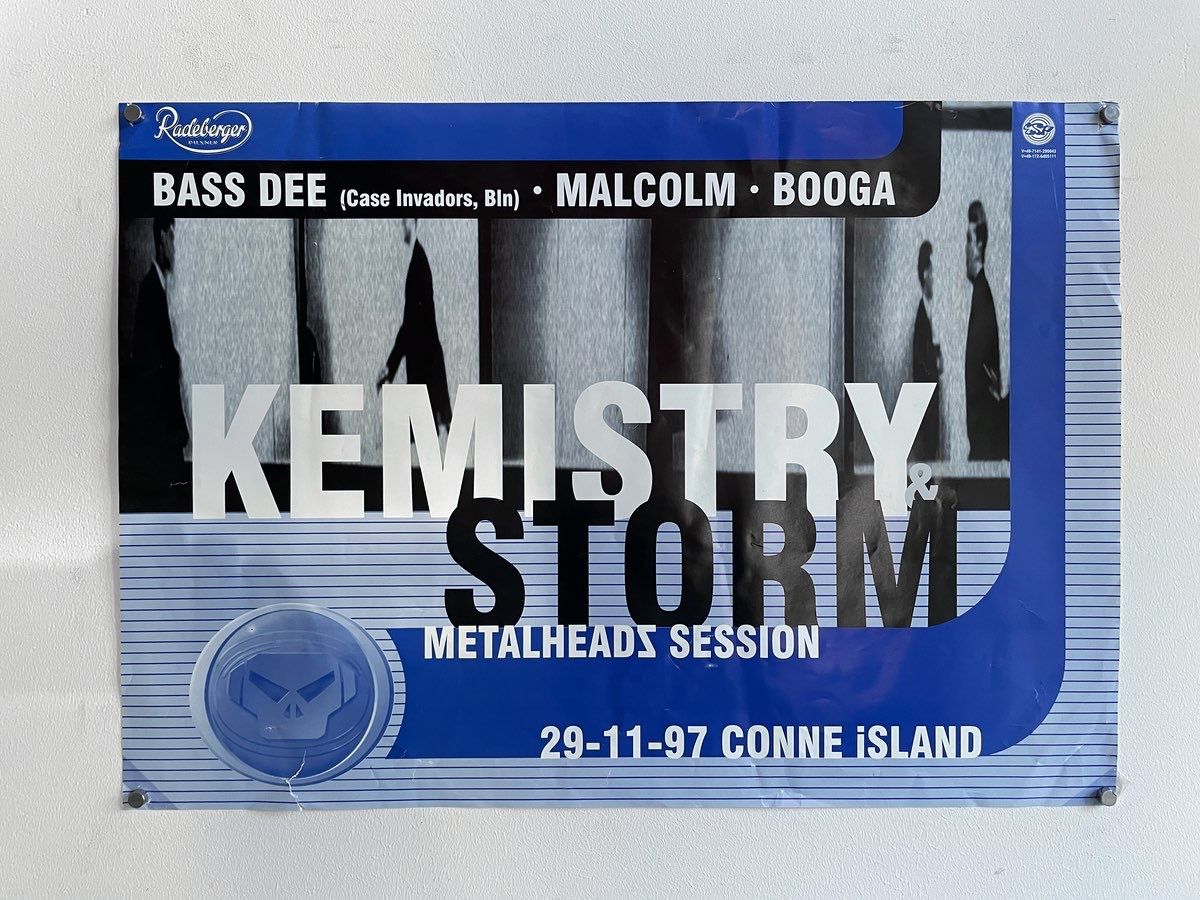 The Conne Island news magazine announced the evening somewhat obliquely from today's perspective, but it was clear that no one from the Leipzig drum and bass bubble wanted to miss the event. And rightly so, because Kemistry & Storm tested the club PA to the max and gave the ravers, who here consisted of a wild mixture of trainees, students, punks, indies and techno heads - an unforgettable experience. They wrote tracks they played on the night on an old news flyer during their set. They added their phone numbers "in case you need to reach us". I couldn't believe it! They were both so full of infectious enthusiasm: for the music, for the moments they were creating here, but also how they represented the UK sound as ambassadors. Of course, I never called.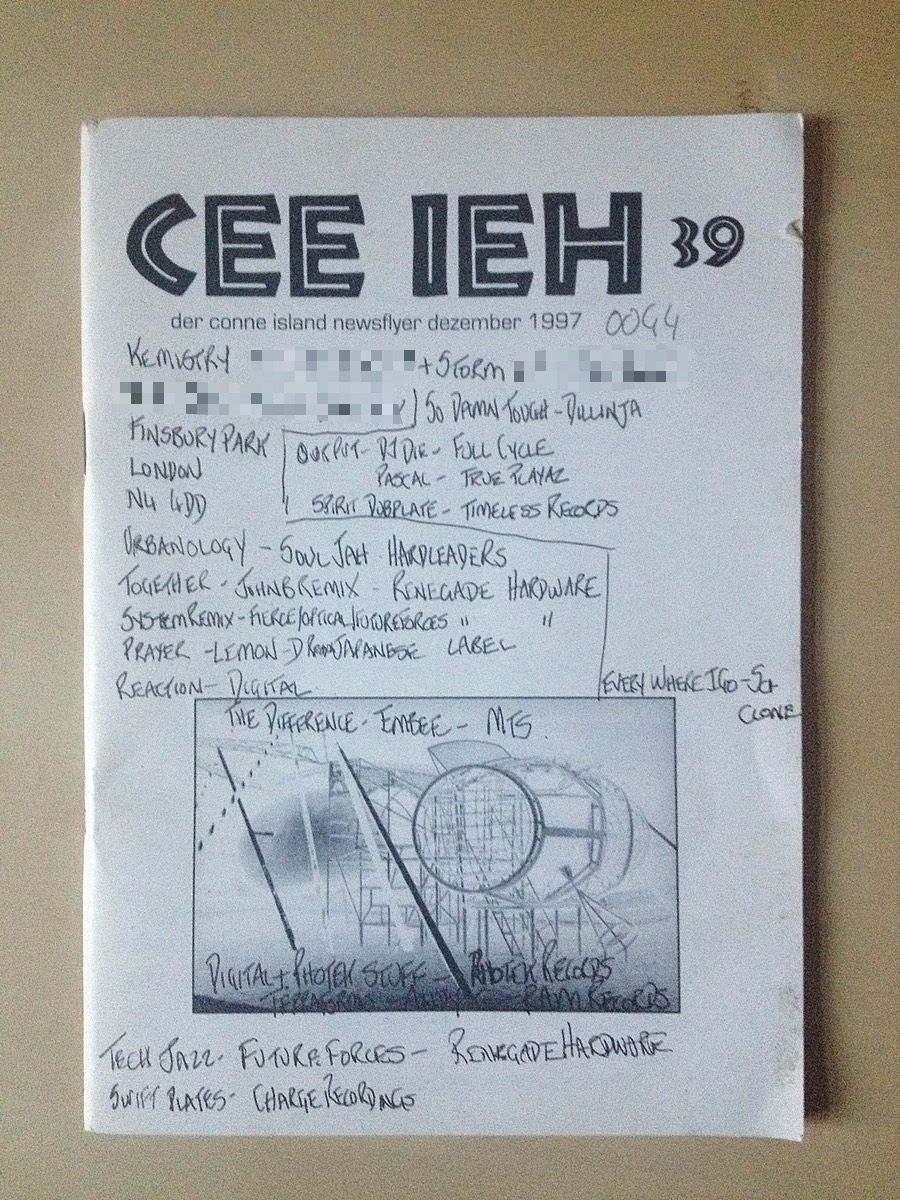 Kemistry and Storm crowned their pioneering work in Jungle / Drum and Bass history with the DJ Kicks Mix in January 1999, which became a hit internationally and thus also in Leipzig. Both returned to Conne Island on 20 March 1999, this time with Alley Cat as part of the posse and me again as local support. There was no more ice to break, we were familiar with each other and I had a long chat with both of them on and off stage.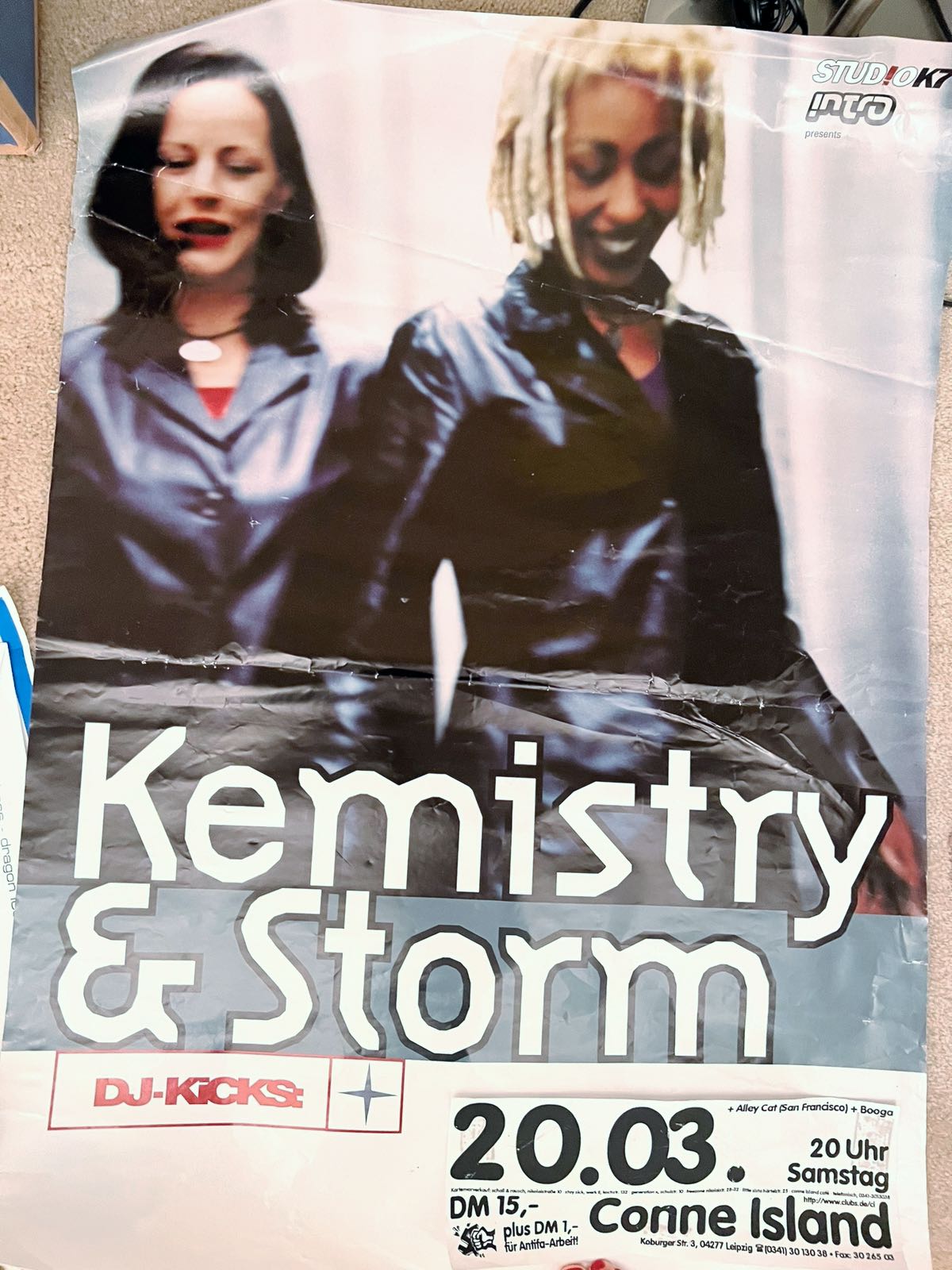 A good month later, Conne Island booker Roli called me, he had heard from ESP, their booking agency, that Kemistry had been killed in a car accident on 25 April 1999. It hit me like a punch.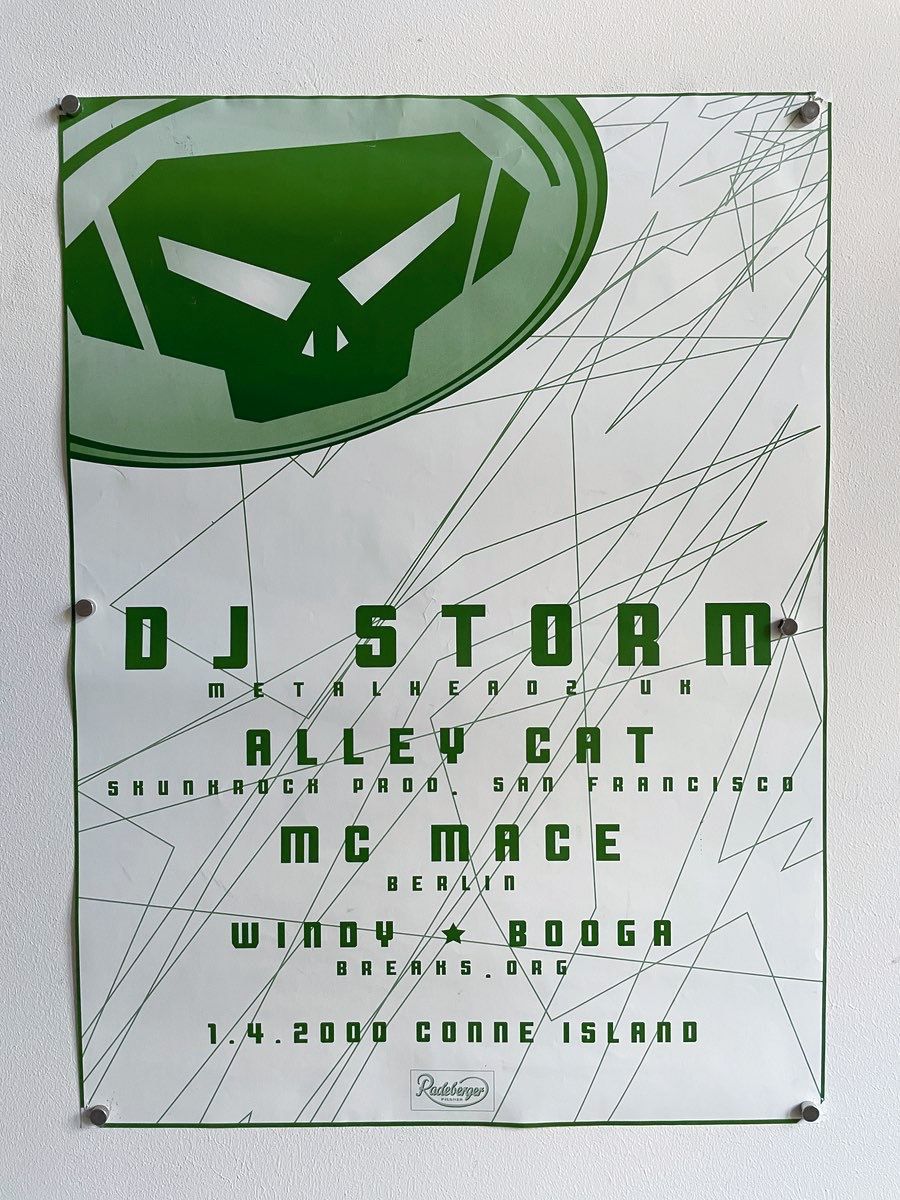 In spring 2000, I learned that Storm would be returning to the Conne Island on April 1st. At that time I had started working on the breaks.org project: a website about Leipzig crews, DJs, artists and their music and parties. I felt that Jungle / Drum and Bass was underrepresented in the local city magazines and press despite there was a lot going on at that time. I decided not only to publish dates and profiles of friends, but also to interview esteemed guests from the Drum and Bass motherland. Storm seemed like the perfect opportunity to start with, so after her set I quickly converted my headphones into a microphone as we sat in the Rumsei backstage/studio, keeping my initial nervousness in check to record the first interview of a drum and bass DJ from the UK.
---
Booga: In ATM #48 they wrote about you: "She carries a knowledge of the history that defies any random trainspotters belief." Can you comment on that?
Storm: Well, I've been around since 1991, when drum and bass was slowly forming. I don't mean the deejaying - that didn't start until 1992 - but rather the knowledge about the music that has accumulated since then. From then until 1996, Kemistry and I wrote down every record we bought in a book. So I can assign every tune its time and say what was going on. We were the "original trainspotters", so to speak. "Trainspotting" is what you do before you DJ, you know? Pay attention to the records the DJ is playing, listen to the tune. In itself, "Trainspotting" is a nerdy thing, it comes from counting train carriages, how long is a train. We were trying to track down the clue, the key of a tune - what's really behind it? That's "trainspotting". So you stand in front of the DJ at night and look at the records he's playing and you get what's going on.
Booga: How did you develop a common thread in the selection of your tracks?
Storm: I don't play all the top ten tunes. I play a little bit of everything. The main reason is: "I was born on drum and bass". In the early days, the influences came from different directions of music. The tracks from Belgium, America and England were not really drum and bass at the beginning, they were completely different things: Hardcore and House and so on. When Fabio and Grooverider played the stuff that stood out in the different genres, those were the "mad tracks" all over the world. People in the clubs in London were giving this stuff a space and it evolved into Jungle. So from the beginning we listened to different styles and that's how we always designed our sets.
I'm a big believer in bringing a little bit of everything: whether it's reggea vibe, jazzy vibe, hard vibe, twostep, an amen track or a vocal piece. I mean, that's the beauty of drum and bass for me. I want to keep that, but of course I have some big hits in my set - not necessarily everyone's big hit, but my big hit. I think every DJ has his big hits in his set. For example, "All aboard" (by Dillinja) is such a tune, it's so huge. "Nitrous" (by Bad Company) is a real big hit. Every DJ has different ones and that's just your DJ identity.
Part of it is: you should never underestimate the crowd. I think when you come here as an English DJ, people want to hear "the next big thing", what do you have on your dubplates, who do you have in your suitcase. They don't want to hear what the DJs here already have - and they do a great job, you know what I mean - they want "the latest thing": What is Storm going to do today? And that's why I try to reach every one of them, with every single tune I played today, the different styles from Photek to Source Direct and back.
Booga: The drum & bass scene wouldn't be nearly as full of vitality if the dubplates business didn't exist. What is the wonderful thing about it for you and where does the fun end?
Storm: The wonderful thing about it is that you can play tunes that nobody has. The shame is that you can't do it without. If you don't have dubplates, you're nothing. Of course you start mixing without dubplates. Kemi and I started with some B-sides and mixed everything together. But it was also fortunate circumstances that led us to where we are now. Kemi went out with Goldie and we had the dream and Goldie started producing for Reinforced and that's how we got Reinforced dubplates. We were very happy DJ's with that. I mean, five months after our debut behind the decks we were on our first radio show and we had Reinforced dubplates! Two completely unknown girls! Everyone was like, who are these two?! They thought we were crazy. At our gigs we mixed them all up with this sound: just not girlie-cute stuff, but the bad tracks on dubplate by Goldie - "so fucking hardcore".
The fact that we had these dubplates was wonderful. The shame is that in the dubplate business today, things are a bit out of control. If you don't have a connection to any, it's almost hopeless for you. It's very hard to get some first hand. I'm lucky because I have a very good network of producers: I get stuff all the time from Photek, Dillinja, Lemon D, J Majik, Jim from Demonic Records - whoever you name, I get their stuff. Digital and Spirit, they're "my boys at Metalheadz". There's a very good relationship formed: I support their music and they respect that I represent it for them.
If you look at this circle of producers - and Peshay is one of them - you will see that their music is very innovative and far away from anything that has been done before, which means that not everyone would want to play something like that. But we have always done that. We believed in the power of these producers. Whether it was someone new like John B or someone we knew from the beginning like Die, Krust and Roni. We'd play their dubplates in Bristol at their club without them knowing we had them and they'd go "Wow, they're playing our stuff". And we were like, "Jumpin Jack Frost (V Rec.) gave them to us" and that's how we were able to make the back connections. So you have to build your network over the years. It's hard when you're new. Especially if you don't produce yourself, like I do, you can't trade, meaning you can't give anything back, you have nothing to offer if you want a dubplate. It is different for Optical, he goes to Doc Scott and they exchange DAT's, it's as simple as that.
But what I can give back to the producers is feedback and support. I support their tunes and promote them, but I can also tell them if a track doesn't work or the sound isn't good. That's ultimately what the dubplate was made for, to test your track. For me it's like Lemon D and his guys ask me "how did it go, which track was the best?" and I give them feedback and not always my favourites are theirs and vice versa. They respect me and they know I'm not sucking up, like "I love your tracks, I play them all!". Nobody wants to hear that kind of bullshit from the producers. When I say to Dillinja "What's the deal" is my favourite, he believes me.
Booga: Then there is the problem of the tracks that never appear. People freak out about the dubplates and at the same time suspect: they'll never hear that again.
Storm: That's how it works: As a DJ and producer, sometimes you do an extra set for one night. You cut ten dubplates of tracks that initially only outline an idea, a break. You want to know how and what works at which point and what of these ideas should flow into the real track. Tonight I started with a VIP track that was later split for the release. One track turned into two independent ideas. So I started with the VIP version, which will never come out, went in with the first real track and later brought the second tune - that's how it can go. That's how I do it with Dillinja: he gives me the tracks and I tell him which one works.
Booga: So the bottom line is that producers depend on feedback from DJs?
Storm: Well, professional producers do it like that. Some producers don't care, they make their track and put it out. But take someone like Andy C: He plays himself and knows best what works and what doesn't. He bases his tracks on that. Other producers just get it and make the tracks good straight away, without feedback. And not every producer wants your feedback as a DJ. Of course, there are also producers who never give me their music, but that's okay, I have enough of them.
Booga: You must have heard this next question a thousand times, but I don't know your answer yet. Therefore, with all your experience, surely you would have a good hand in producing, do you ever plan to tackle that?
Storm: Well, first of all, no. I've been very busy lately. Last year I did the promotion for Valve Records, Lemon D and Dillinja's label, so I've been busy. Coming out soon is Valve number three, a really rad 12" double pack of both. The tracks "D-Type", "That Amen Trak", "Organic Funk" and so on - I played them all today and every one of them brought a rewind!
Booga: ... and not only this one! I've been wondering all along who was behind the track with the almost percussive-metallic bassline. It sounded very hard and cut the beats so uniquely syncopated ...
Storm: Ah, you mean Jim's first release on Demonic. Yo Bitch is a really dark tune. Should be out soon. An excellent new start for him [after the split with Phil Aslett, with whom he formed Source Direct].
Booga: You also played new music by Goldie?
Storm: Oh yeah! I played Stormtrooper quite early today, it has such a sound - singing "doo doo" - and Beachdrifter, I played that at the end. Both tracks are by Rufige Kru [changing producer team around Goldie, here with Danny J., previously with Optical and later with Heist, among others] and are currently being mastered. This will be the next release on Metalheadz. You see, Demonic, Metalheadz and Valve are coming!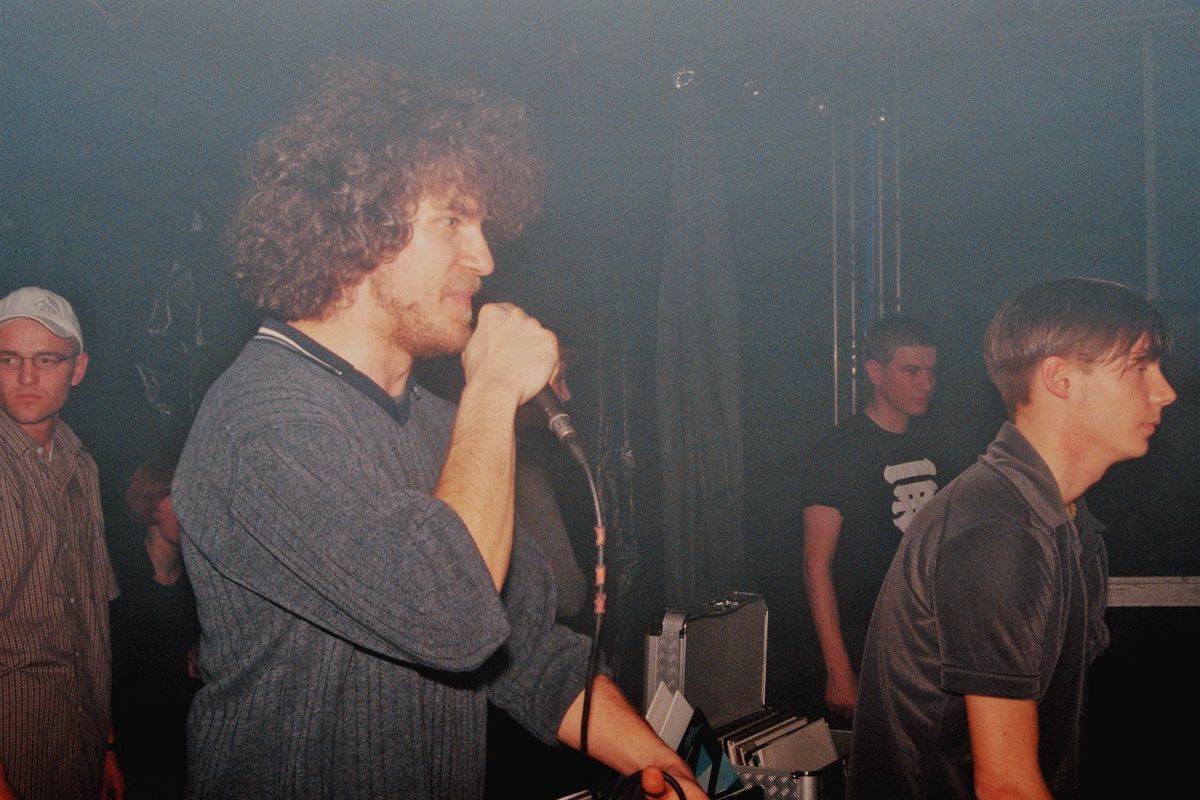 Booga: What are the three most important recommendations you would give to a new DJ?
Storm: Well, I couldn't decide on three right now. If you feel you have something to give to the scene and you want to be part of it, whether it's hosting, producing or deejaying, then just do it. That's all I can say. Believe in what you do. Whatever you want to sacrifice yourself for, do it. It's hard work but you have to believe in the music. If it hits you in the soul, there's nothing you can do about it, you know?
If you feel you have something to give to the scene and you want to be part of it, whether it's hosting, producing or deejaying, then just do it.
Then when you turn professional and get gigs: always be on time. Look neat and tidy - yes, I know it sounds trite. Show respect to the promoter because they believed in you when they booked you. Stand up, do your job - regardless of the local conditions, whether it's too hot or too cold - and, as Kemi and I have always said, give 110 per cent behind the decks! No matter where you are or what the monitor situation is, the turntables are tuned - it doesn't matter: always give your best! If you don't, then you shouldn't be DJing. Because this is about the people on the dancefloor and it's about the music - they want to get it correct and in the right way. Mix well and mix professionally. That's what professionalism is about: for the DJ who gets the opportunity for a gig, that's his "rent" he has to pay to get a home in the scene. So my home became my career, I live off it.
That's what professionalism is about: for the DJ who gets the opportunity for a gig, that's his "rent" he has to pay to get a home in the scene.
So if you have something to offer the scene: Go for it! Make mixtapes, send them by the hundreds to promoters - one day you'll get THE gig, you know?! That's how we did it. We sent out fifty mixtapes every week for a whole year! You know what I mean, every fucking week! So we got maybe one gig in three months. But that was enough for us, because that's how you get your foot in the door, that one chance to bust your ass for it - completely, you know?!
Keep in touch with the crowd, be friendly to them, talk to them when they come to you, because this is about music and not about your big DJ ego detached from the people! Don't play what anyone thinks is the latest hype or anything like that. Bring the tracks from your heart that you feel.
I learned these skills growing up in drum and bass through Fabio and Grooverider. Fabio taught me this journey: a DJ set has a beginning, a middle and an end. The whole set tells a story and you write it down. There are hard moments, enlightening moments and plateaus. Everything happens in an undulating "up and down" to the point of the absolute track and then - "You kick ass!". Grooverider taught me the art of track selection - when to take which track and why. Randall showed me how to mix. these are the three key people for me.
Of course I've also experienced Andy C, Peshay, LTJ Bukem, Hype, Kenny Ken - and they can all really mix very well, but Randall sometimes took my breath away. A whole club would go "aaahh!" and at the end of his mix you could have heard a needle pop. He completely took people with him. That inspired us, Kemi and me a lot. But you can ultimately learn something from any DJ, even now (hear my friend Windy is doing a rewind) I'm possibly learning something. I look at the great DJs to learn something else from them, for example DJ Frost. I'm obsessed with it because the mix is the heart of music for me.
Booga: You always keep your eyes open.
Storm: Yes, even if I have it closed and "smoke". Then I see it from the inside. Yeah! (laughs heartily)
Booga: With Sci Clone, Total Science and soon Markus Intalex and the Rufige Kru, Metalheadz seems to be back in business. [From 1995-1998 there have been more than 10 releases every year, in 1999 and 2000 combined there were only 7 releases.]
Storm: Looks strong like that.
Booga: What is the force behind this?
Storm: Two women, Jo and Sarah, and I help from a bit outside. They keep the club and the label running and I keep an eye on it, just do what I usually do ...
Booga: Do you still have a hand in it?
Storm: Yeah, I'm still a resident at the club and I recently came back from Miami where we had a big Metalheadz night. So I'm still a big and important part of Metalheadz. I have a right to be, too, because I started it with Kemi and Goldie. I could never ... it's just in my heart. In the time when I left and Jo and Sarah joined, I was just too busy with Valve, Phantom Audio and Demonic. There were just too many labels. But nothing ever actually came between me and Metalheadz.
Booga: What is your current role in Metalheadz?
Storm: I run it in a certain way from outside. I help and I don't have to run to the office every day. The girls and I talk everything through and we make the decisions together. The right decisions!
Booga: As far as the last two releases of Sci-Clone and Total Science are concerned, I can only congratulate you! For my part, I find it very good that Metalheadz is back again, especially with such, how shall I put it, not exactly "demolition material". Although Metalheadz wasn't necessarily known for that either, but rather for expanding the Drum & Bass horizon in the earlier times.
Storm: Yes, exactly! Well, we had problems for some time, but we are back! And you say it, Metalheadz is still strong. I say it's still the strongest symbol in the scene. Metalheadz was always about innovation, even in our club: nobody knew who would play that week. We didn't tell anyone. You just had to go there to find out. We had six big residents and five MCs all in heavy rotation. Whether a guest was coming or whoever was going to do the night, nobody knew beforehand. And the club has been godless since we moved to Dingwalls [if I understood correctly]. And anyway, we've already done a tour with Goldie this year in Italy and been to Miami and -zig gigs in Europe, there's a lot going on this year.
Metalheadz was always about innovation, even in our club: nobody knew who would play that week. We didn't tell anyone.
Booga: ... and now that Goldie strikes back again with a release, just after the insane track (Shining Down) on the Reinforced sampler (Deadly Chambers Of Sound): these absolutely not clean loops and how they ...
Storm: ... yes he takes these textures. His tracks are like landscapes. It's a tremendous visionary view of an artist taking that power out of his graffiti. I think Goldie paints pictures rather than writing tunes. He paints landscapes. Like with "Stormtrooper": if you really listen, it's like ... like the kind of thing Dillinja does. That's disappeared a bit in the last couple of years in Two Step. Dillinja can hit you on the knee with a bassline, on the ankle or on the hair - it's all about textures, about depth! Goldie's tracks come from here, from here [probably shows me on which part of the body right now, but I definitely have no memory of it], you know what I mean?! The first time I heard Timeless I was like "Wow, shit! This is an event!" - it drained me. And I've always said, if a track by Goldie makes me all, then it's a very good track! It's not just about listening. Drum and bass is about so much more. You feel it! You know, in the beginning we were the first to have the big bass, you felt it. And think about the samples! Look at how Dillinja spreads the samples around the room. They're here, here and here [pointing in all directions and heights], he's moving the sounds all over the place. Check out "Stormtrooper" - the bass drum goes sooo down on the dance floor. That's what I want to hear - I don't want to hear the "dah dah - ehhhhhh! dah dah!" Noise, you know, I don't want to hear that anymore. We've moved on from that now. You know we had Jungle, we had Darkness, Two Step and now it's moving on.
Booga: I'll just say Phantom Force [Digital and Spirit's debut on their label Phantom Audio].
Storm: ... and I say Bambaata. The original by Shy FX, that changed a lot. You have to mention "Bambaata" and you have to mention "Phantom Force" and you can never forget Dillinja. But "Phantom Force" really made a difference!
Booga: The last time you were there and we talked, you kept mentioning Digital as the man to come. He's also constantly featured in interviews or in your magazine charts. How did he earn that?
Digital: Well, I support a lot of producers! (laughs) But you're right, I've always respected him and stood by him, even if others didn't, definitely. I think he was always underestimated. Not that he didn't have the possibilities to realise his sound ideas, but people weren't ready for his sounds. He has his own vibe and I've always appreciated that. That dub vibe. I love the jungle thing. Some of his tracks I played today and they got rewinds - he's bringing back the real jungle! Proper jungle, "real fucking jungle basslines"! he's a reggea man.
Booga: Especially the basslines on Phantom Audio don't have that morphed rave feeling anymore, but more like "bham bham bham" [now I'm also starting to imitate basses, good thing no one hears the interview].
Storm: Yes, enough of the party basslines now. But his! Real sub basses! That goes deep. He has now also really "opened up" the equipment for his sound ideas. It's always been there, but now he's found the key and I've always played it, no matter what, even today. You know, it's a ride for everybody here, I played Pascal today - all different people, DJ Die ... just everybody.
Booga: Once again to Phantom Audio. I was completely freaked out by the loops, which Goldie had also used several times, and then later by the Mission-Accomplished breaks (a track by Digital & Spirit on Metalheadz). What a mix and a nod to drum and bass history!
Storm: Yeah yeah and then Goldie's "Jah Jah Jah" samples!!!! When Goldie heard the track while cutting it, he was absolutely surprised and just said "Oh my, thats fucking me!". He immediately called him up and said "Digital, you fuckin' ..." [laughs out loud] so for "Stormtrooper" he then sampled from "Phantom" to get back at him. We laughed our heads off! But this exchange of breaks and basses is absolutely common in this community: when Photek gives Digital breaks or Digital releases these "lickin' sub basses", it's normal and great at the same time.
Booga: But I guess, to sample someone like Digital did with Goldie, without him knowing beforehand, surely not everyone can take the liberty?
Storm: No, but when you're part of the Headz crew, the samples are up for grabs for everybody. I mean nobody knew that Rupert [Photek] was going to do this "Manslaughter" thing while Goldie was working on Still Life. [Photek remixed Still Life which was the first release on the remix label Razors Edge in 1996]. He killed Goldie with it and Goldie said to him "I can't believe you ...". I mean, when you sample stuff and you make something amazing out of it, people show you respect too. But if you do it to make money, for a commercial thing, it doesn't work. This copying is wrong.
I mean, when you sample stuff and you make something amazing out of it, people show you respect too. But if you do it to make money, for a commercial thing, it doesn't work.
Take the Two Step thing, haven't we heard it too often? I mean it's an ungodly thing, but it needs to be developed, to the next level. Bad Company took it to another level and now it needs to be taken to another level again and even that makes BC because they have new stuff. But other than that? That's behind us, let's forget about it. We don't want twenty tunes that sound the same, where's the soul?
Booga: That's how I see it now with RAM tracks, because these tracks have a very concise bass line that pushes the rest of the sound back. I think that leads to fatigue on the floor and this pressure has nothing musical left. With the tracks you play, one can very well recognise the different ways of using the bass. Often it's just an accentuation of the bass drum and the percussive character of the tune comes to the fore again, while the bass just keeps your ass moving.
Storm: Yes! You can hear basslines today that really create a track.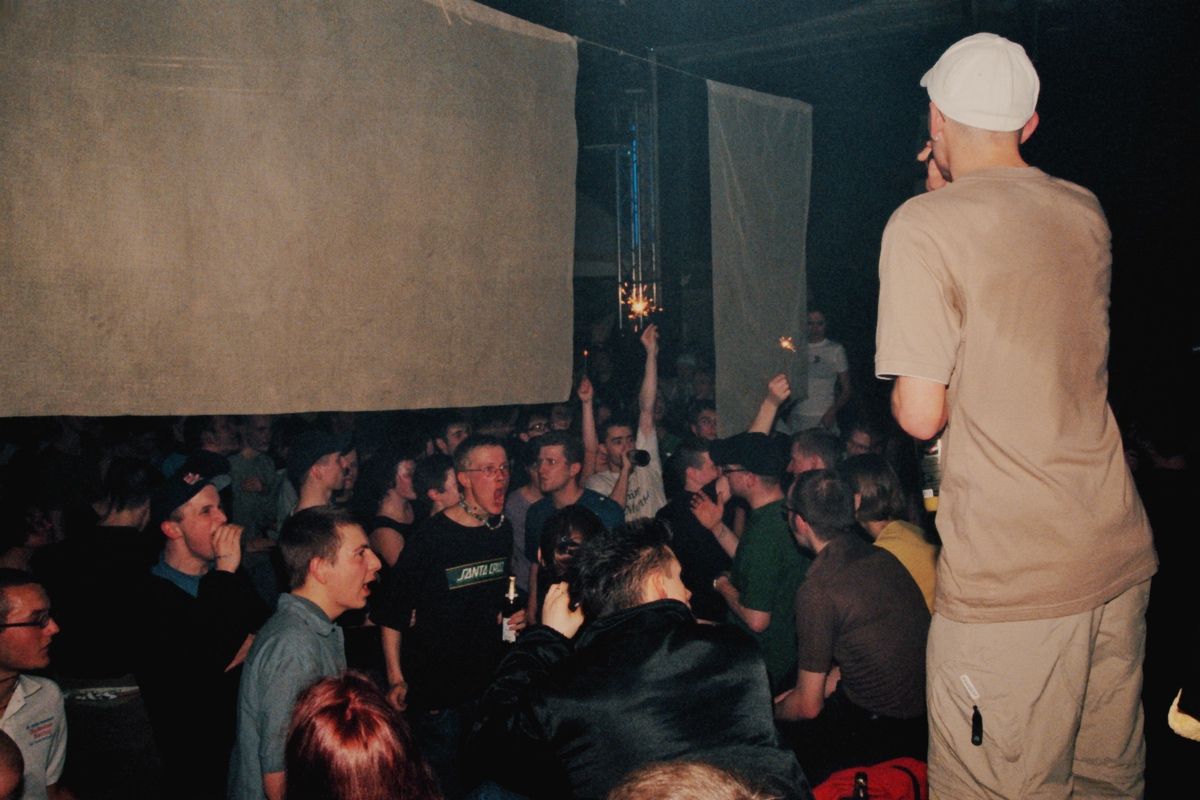 [There are about five minutes of interview missing from the recording on mini disc. There is only a humming loop on the right, later on the left and nothing else can be heard. No idea how that could happen. I don't remember where we were in terms of content, I'll start with Storm's first acoustically intelligible sentence.]
Storm: ... because we are dangerous, you know? This scene is changing all the time and faster than any other. It's the most forward thinking music and there's always new people coming in with all their input. I'm telling you, pay attention to Dillinja's Cybotron album, it's incredible! Lemon D's album as well. It's all very dark and insane. And after that, it's going to really crack, because then comes Dillinja's actual album. So first Cybotron and then his. Ten tracks that sweep you away: "All aboard", Nasty Ways, just to name a few. Ten "just boom fuck off" tracks. And then the much more varied Dillinja album. There's going to be so much in there, hip hop for example. This hip hop track I heard was just horrendous! Imagine his deep sounds in other genres of music, it's insane what the man can do. It takes it to a whole new level again.
Booga: I think this expansion towards downbeat by drum and bass producers is also an absolutely hot thing, because ...
Storm: ... it's all about the breaks! They come from hip hop. That's the definitive connection. It's not necessarily difficult for drum and bass producers to make this step. In fact, I would almost say that drum and bass producers could do anything.
Booga: One of the greatest tracks in this respect for me is the Hidden Agenda remix of Bel Air's "Dark Jazzor".
Storm: Yes, I know him. He's really big and wicked. But check out the track of theirs that they did on the Metalheadz box: Big Lamp. Evil, evil!
Booga: On the website breaks.org we want to feature everything that has to do with breaks. My friend Windy, who is currently DJing, has a very special favourite who is not only at home in drum and bass: Seiji. He releases on Reinforced, Archive and so on. What do you think about producers going down these paths?
Storm: I think drum and bass producers know how to fill spaces with their music. And when they go downtempo it becomes easy for them.
Booga: Is that so?
Storm: Yes, I think so, because they know how to create an atmosphere, especially in the downtempo area. I personally like it a bit faster, of course ... (laughs). But take Modus Operandi by Photek. There were times when I had to have it every day! It was the last tune before going to bed. Smoking a joint and "Modus Operandi" - there's nothing better. I like to mix that track at the end of a set. In Europe I've done it in the middle of a set a few times, it's crazy! I would never do that in the UK, but off it I would. They would get upset and say I'm crazy in England.
Booga: So it's not so easy to accommodate these tracks?
Storm: Of course it doesn't always work with the downtempo tracks on albums by drum and bass artists, for example. It's sometimes as far-fetched as saying I need a vocal track on it and then I need a downtempo track on it. Jim from Source Direct, on the other hand, just does these things and I'm telling you, they're mad! How many times have I said to Rupert, "you need to make a drum and bass piece out of Modus Operandi, that theme won't let me go". It's so great. Rupert is a minimalist, he can entertain you so much with his minimalist stakes... how many people can do that? Rupert and Krust? Krust can. But it's a feeling thing, a vibe thing. When True Stories came out, ah... you could have cried. Everybody couldn't help but cry. "True Stories" is like a light at the end of the tunnel. I think "Beachdrifter", the track that Goldie did, that's a track you have to feel. A landscape that you see and feel.
Booga: Now that you mention him again. It has become very fashionable in the last year to constantly give Goldie side blows. Whether in English or German magazines, in their eyes he was just the "film star" with all his attitudes.
Storm: That's the press. Of course, we have brought Metalheadz very far forward. We had a very nice club with the Blue Note. There was a v.i.p. lounge upstairs. It became trendy, okay. But Goldie had finally made a million-dollar album and that was the big thing at the time, so models and pop stars came to the club. One person who believed in us a lot and liked us a lot was David Bowie. And he still does today. If you could see him raving in the Leisure Lounge, which is a club like this [Conne Island], you wouldn't believe it. But the models and those kind of people that came to us then, where are they now? I mean the Spice Girls used to come to us and we used to make them pay.  They had money after all and they made a guest list! "Nah nah, this is real. Get the money out girls!". That's girl power! [laughs heartily] So what I was saying, Goldie was the thing back then and blablablah.... everybody wanted to discover this crazy and aggressive guy for themselves and were horrified about his horrible childhood and stuff and now they're holding him down. That's what they want to do now: "Goldie is over".
Booga: For me, he was something of an initial spark with Timeless.
Storm: So don't give a damn about the talk. At the end of the day, what matters is that he has tremendous talent. He taught me so much. He taught me to achieve unattainable things. Especially in drum and bass. Take some people in England, some of the "old" DJs - they might be in jail or dealing drugs or whatnot. I mean, drum and bass came from the streets. You know what I mean? Some of them might have said, "I found the music and it's wonderful" and music changed these people. They had something to work for. They could maybe make money, start a career, buy a house. And because they came from the streets, they turn to drugs or guns and get into trouble again. Sure, some have been out of it for a long time, but there was a time when music came into their lives and changed a few things fundamentally. Look, Goldie came from Miami and was a graffiti sprayer and didn't know shit about the rave scene in England. But he was so into it, he said "I can do this music" and we said "then we can DJ". So that was the dream: "you are the DJs, I produce and you play my tracks". And we are still living that dream.
Booga: Because you just mentioned the older generation, on one of my first "Jungle Tekkno" samplers on Jumpin' & Pumpin' there was a track called "Music Takes You". A rave hardcore tune at its best! That was in 1992 and Blame, who made that track, is still around. But with others, I wonder where they've gone, like DJ Crystl (who made THE uber tune with Warp Drive)?
Storm: Well you know, some of the producers from back then didn't like that change when it got harder. A lot of them are doing Garage now. This Speed Garage thing. I personally don't like it very much. But take Timmy Magic for example, who was part of the Dream Team, he's become a drum and bass DJ now. [I missed asking who that was, so I missed the punchline].
Booga: And what do you think of people like Todd Terry [with "Can You Party" in the UK charts for a total of 14 weeks in 1988], who did drum and bass in his last releases?
Storm: Did he?
Booga: What do you mean?
Storm: Did he really do that?
Booga: So the way I heard it, Grooverider was playing his tracks and that's how he suddenly became known in drum and bass... and I have to say everyone was wondering.
Storm: Where is he now? "C'mon Todd, shell yourself!" [laughs]. I'll tell you what: I tried to mix his track and you know what - it was the "most-untight" track I've mixed in a long time. So Todd, you still have to learn! [laughs] No no, it's great that he was so influenced by Drum and Bass, that's really wicked! Really. But it's funny that it should go like that. It doesn't matter who you are at all, but you can't just slide in and be there, not after we've been here for years. You know David Bowie once had a track with something like drum and bass going in the background but "Come on"! He sampled "Renegade Snares" which came out on Rob Playford's label Moving Shadow! I mean, A Guy Called Gerald might have some kind of right to do that.
I was doing an interview on TV the other day and I said about Everything But The Girl: "You love drum and bass, but why don't you make some? Why do you always get our producers to remix your stuff?" I don't get it. If you like drum and bass and love it, well then MAKE IT. Don't get J Majik, Grooverider, Fabio to do the remixes. Do it yourself! And I'll tell you what else, if you turn this thing off.
[At this point the interview officially ended and I certainly don't remember exactly how it continued after this hour of conversation].